Sophie Turner's Diet Plan And Daily Workout Routine
Arunima Saha
Updated At 14 Dec 22
Want to know more about Sophie Turner diet and her workout routine?
If you have been facing a seemingly permanent blip in the fitness procedure or regimen, then you must check out Sophie Turner diet and take inspiration from it. Scroll down to see the following topics covered especially for your benefit:
Sophie Turner Journey
Sophie Turner Diet (With Daily Diet Plan)
Sophie Turner Diet And Weight Loss Tips
Sophie Turner Workout Routine
Sophie Turner Fitness Tips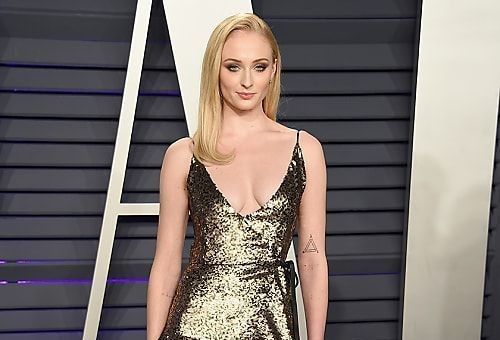 Sophie Turner Journey
Sophie Turner aka Sansa Stark of the epic tv series – Game of Thrones is a real-life hero who battled with depression which was triggered by social media scrutiny on her weight and skin since she began her career. She has publicly disclosed and confessed that her bodily imperfections made her consider suicide.
Over the years, with the right medication, therapy and drill or physical training sessions, Sophie has emerged as a better, stronger, more confident and more loved individual. Sophie Turner journey has been a war with her own image but the way she dealt with all of it doesn't fail to astound many. Also check out Sophie Turner beauty tips to find the secrets to her amazing skin and makeup.
Body Stats Of Sophie Turner
Sophie turner height – 1.75m (5 Feet 9 Inches)
Sophie turner weight – 64 Kgs
Her Measurements - 34-24-34
Sophie Turner hair color - Blonde
Sophie Belinda Jonas, better known as Sophie Turner is one of the most critically acclaimed actresses. Her green eyes visually intoxicate her fans.
Why Sophie had to follow a customised Sophie turner diet and Sophie turner fitness while shooting for Game Of Thrones?
The superstar actress who rose to fame with the very eminent HBO series told Marie Claire.
My metabolism suddenly decided to fall to depths of the ocean and I started to get spotty and gain weight, and all of this was happening to me on camera.
It was because of the pressure from her executive producers and other core team members that she had to pay extra attention to weight loss and thankfully, her therapist supported and encouraged her to embrace herself (to prevent insecurities) and work on her body with her indomitable will.
This led to a strict Sophie turner diet plan and an extremely meticulous, hardcore Sophie turner workout routine.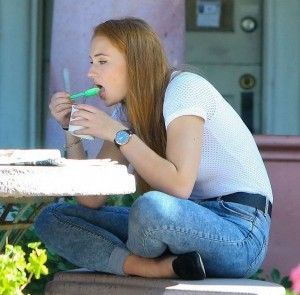 Sophie Turner Diet
Have you ever wondered how Sophie aka Sansa gets into a perfect fit and elegantly slender body shape and plays the role of a superhero in an untarnished way? If you have, then stop right here as we divulge the rigorous Sophie Turner diet.
She put in extreme hard work by following the Paleo diet in which food items like – broccoli, carrot, turkey, lamb, pastured eggs etc. are included.
According to James Farmer, Sophie Turner's personal trainer, she used to skip breakfast on almost all days and that is a sin if you want to stay healthy.
Skipping certain meals is a mistake that people often commit in their pursuit of a better body.
James Farmer made sure that she doesn't neglect her well-being by starving herself, hence, he made her eat spinach, cauliflower and other fibrous vegetables along with sufficient amount of protein and fat in all meals that is, breakfast, lunch and dinner.
I've really embraced healthy eating. It makes you feel a lot better and more energetic. I'm inspired to get up and out, Sophie Turner opined of her trainer's customisation in her daily food habits.
Sophie Turner Diet Plan
Breakfast: She follows a staple combination of cereal and any type of fruit juice.
Lunch: She gorges on pasta and a chicken side dish. She also prefers a vegetable salad on the go.
Snacks: She grabs some almonds, yogurt.
Dinner: Any preparation of fish and tit-bits of fruits.
Sophie Turner Diet And Weight Loss Tips
Too much of dieting is bad for your health. Sophie has mentioned that extreme dieting had actually made her loose periods for almost a year so it is never recommended.
When you go on a diet, you must understand that the quantity of food or quantity of calorie intake matters more than the kind of food you are eating.
It is a piece of mandatory and redundant advice that says if you include food from all food groups in the correct amount every day, there is a chance that you will be losing weight and staying healthy/fit simultaneously.
Having cheat days can also help in staying motivated to eat better, work out better. Sophie turner, personally, is avidly fond of pork sausages but she controls that indulgence by choosing chicken sausages as they are healthier.
Too much of dieting is bad for your health. Sophie has mentioned that extreme dieting had actually made her loose periods for almost a year so it is never recommended.
Sophie Turner's diet and weight loss tips are indeed very practical and can work for anyone.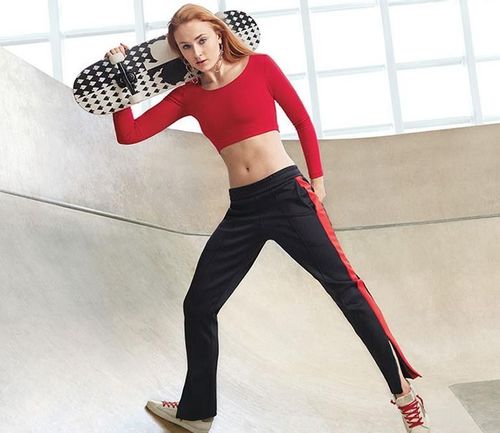 Sophie Turner Workout Routine
Sophie turner workout is special as she includes a lot of out of the box exercises in her workout routine. Apart from trying strenous exercises and full body workouts she also performs boxing and different exercises like hiking and skiing.
Time span of strenuous workouts: It has come to notice that Sophie stopped being lenient on herself and did almost one hour of workout almost every day (5-6 days a week) for 3 long months to fit into her "unforgiving costume".
Full body workouts: While some celebrities focus on workout regimes on certain body parts, Sophie Turner's trainer made sure that she did full body workouts like – hill sprints, burpees etc.
Out of the box location for workouts: A strange and different approach to the location of workouts has been observed. Farmer didn't want Turner to stay confined in the walls of the gym so he made her do all workouts on the streets of London and Sophie confessed, too, that it was very liberating.
Extra exercises: Apart from these mainstream exercises, she also focuses on doing biking, hiking and skiing in her free time so that she stays in a near-to-perfect synchronisation or touch with nature.
Sophie Turner boxing: "It's good for fat loss and coordination. Sophie had to do 20 hard shots to the body protector I was wearing. It helped her focus", says Farmer. According to both of them, full body boxing is a must try which includes defensive shots as they can come handy any time. Sophie turner boxing and Sophie turner resistance sprints helped her get in shape or fighting stature for X-Men Apocalypse.

Sophie Turner Fitness Tips
A pivotal tip to succeed in achieving your fitness goal according to Sophie Turner fitness regime is an implementation of – 45 seconds of squatting followed by 45 seconds of deadlifting and ending the procedure with 45 seconds of overhead presses. Then you must take a break of 30 seconds to 45 seconds and repeat it for 8-10 times more before calling it a day. The number of times you should repeat the cycle in a day might vary so do consult with a trainer, online or offline.
She and her trainer also specify that only gym workouts aren't responsible for weight loss. The trick is to stay active throughout the day.
Walking is the mantra that nobody tells you to follow in order to shed the extra fatty tissues. The number of steps that you walk in the entire day matters too. So, don't just rely on a few hours in the gym.
With all the revealed information on Sophie Turner diet and Sophie turner workout routine, it is safe to say that she has travelled on an untrodden path to reach the disposition she has attained with several dazzling performances on screen.
Related Articles